At an excellent factory, everything is set up in the best possible way. It is clean everywhere and each work station is well organised. Are these things only possible after the factory has reached excellence, or are they preconditions for achieving it?
VMT Plastic is a busy place. Development projects, progress with regard to quality and the environment, training sessions, cooperation with students, investments, recruitment drives, moving production from one hall to another and much more. Much has happened within a short period of time, yet there is much more work to be done.
Our blow moulding production and a section of our finishing department have been successfully relocated to new facilities. This has provided us with an excellent opportunity to organise everything into their rightful places using labels and coloured tape to mark where each item is supposed to go, clean up and think about where the forklift would be best placed so that everyone has access to it.
We are now talking about the 5S method of the LEAN approach. The purpose of this method is to reduce variation that hinders operations, which means cutting back on factors that cause unnecessary expenses. The term 5S comes from the first letters of the original Japanese words Seiri, Seito, Seiso, Seiketsu and Shitsuke, which represent the five stages of the method. In English the stages could be expressed as follows:
Sort – Remove unnecessary tools, materials and items from the workstation.
Set in order – Organise the required tools appropriately. Each tool's proper place is clearly marked.
Shine – Clean and maintain your devices and machines.
Standardize – Establish the organisation and cleaning as a routine part of the work.
Sustain – Maintain the established practices.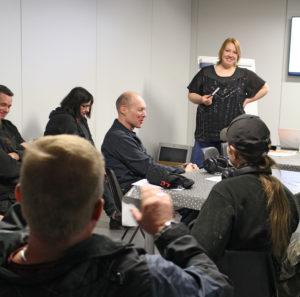 We organised an info session about the stages of the 5S method for all of our employees on 27.1.2020. Everyone got the chance to see how the standardization of the work environment affects results with the help of a playful exercise. The purpose of the training session was to solidify and unify our idea of how to proceed with the method towards a more functional, effective and safe work environment – towards achieving an excellent workplace.
LEAN specialist, Ella Teivainen