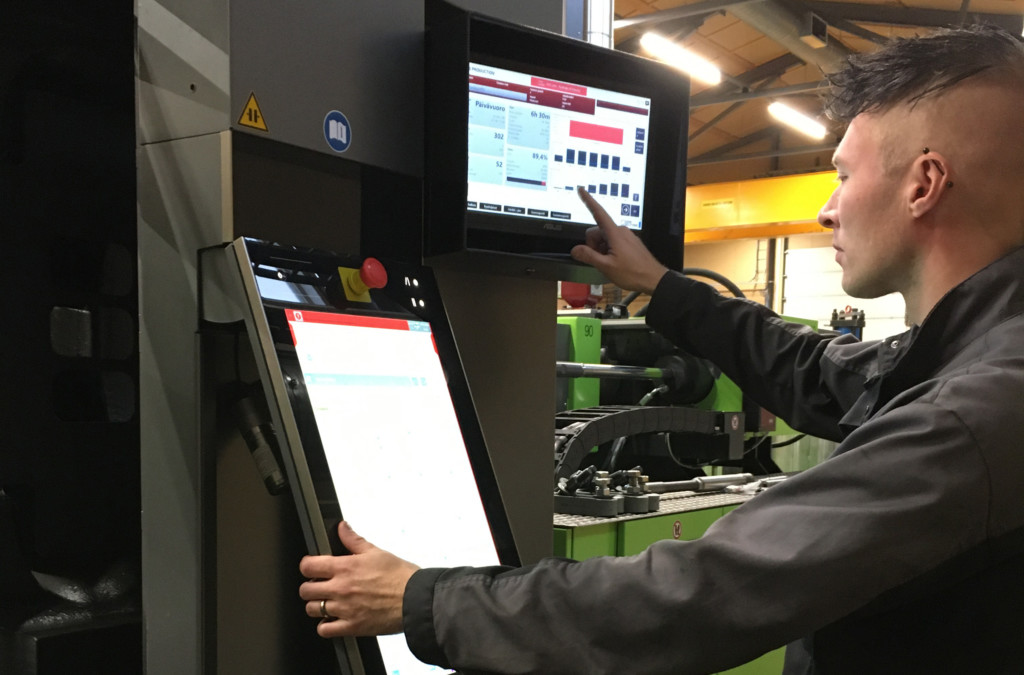 A new overall equipment effectiveness system (OEE) has been adopted for injection moulding. The system was first adopted for blow moulding a year ago, and now it has been installed onto injection moulding equipment as well. Production Manager Erkki-Jussi Lahtinen explains that the production processes at both facilities can now be monitored digitally, allowing the overall situation to be seen at a few glances.
"The system allows monitoring the operation of the equipment in real time. The system shows the utilisation rate, target times, actual production times, standstills, and production quantities. The numbers of defective pieces or wastage can also be tracked at the same time", Lahtinen says.
The system provides the management with valuable information about the status of production, but it also serves as a practical tool for employees monitoring the equipment. "The system does a good job of controlling daily production and activities. The idea is that you don't have to check data on a separate computer – it is enough to just turn your head a bit. We already have a large screen on the wall of the blow moulding hall, showing what production stage is underway, and soon we will have one over on the injection moulding side as well", Lahtinen says.
Informal knowledge was replaced with exact data
Monitoring the efficiency of the equipment was difficult before the new system was put in place. "People have an innate habit of embellishing things. The system however is incorruptible – it always provides honest information about what the machines are doing. Potential quality issues can also be seen clearly, meaning that we can intervene in the important things immediately", Lahtinen explains.
Data supports decision-making better than informal knowledge. The system provided by Novotek Oy opens up entirely new views onto the current state and development needs of production. "This is a must-have tool for the development of production processes", summarises Lahtinen. "If your definition of efficiency has been based on hand-picked data and you believe that everything is in order, then the actual work begins only after a system like this is installed", Lahtinen states.
Developing operations always benefits customers as well
Customers can see the impact of the new system investment especially in improved quality and supply security. When the production process is closely monitored, it is possible to better identify and solve any problems and bottlenecks. When production runs more efficiently, customers can be offered more competitive prices and supply schedules.
"We now know in detail how much time it takes to make the products. The real-time system makes it possible to set prices more accurately, so the data received through it has a big impact on the entire order-to-delivery process", Lahtinen says.
Additional investments in new machines, robots, and training
In addition to the overall equipment effectiveness system, investments have been made in machines, robots, and staff training as well. Injection moulding will receive a new robot from ABB by the end of the year and a new injection moulder early next year.
Even though new equipment and robots are an excellent way to boost production, the most important resource for any business is the know-how of the personnel. The staff is trained to use the new robot for instance at the ABB training laboratory. Skills are also developed with automation and injection moulding trainings starting next year, which have been designed together with the Tampere Vocational College Tredu.
"By investing in staff skills, we will be able to reinforce our competitiveness and secure our future growth. VMT staff has been involved in our development efforts for years, and a culture of renewal has formed at our company. Continuous development does its part in reinforcing personnel motivation and the meaningfulness of work as well. We want to provide all employees with the chance to improve and learn new things while working at meaningful tasks", says CEO Marja Mäkinen.